Local Politics 2012
Forty-Ninth Legislative District
Third Congressional District

Vancouver, Washington
Last revised Sunday, December 30, 2012, at 155pm.
Including links to media and political websites, newspaper articles, blog posts, voting records of incumbents, Facebook pages, YouTube posts, legislative candidates' financial reports to the state Public Disclosure Commission, and congressional candidates' reports to the Federal Election Commission.
---
Recent/General Newspaper Articles/Posts
---
About This Page
This page is intended as a non-partisan, continuously-updated aggregation of links to information about candidates in the 2012 elections for the Third Congressional District and the Forty-Ninth Legislative District – and about local party organizations. It's my way of keeping up with these four local political campaigns, and making as much relevant information as possible available to any interested parties who happen to stumble on it.
Sources are neither screened for bias nor commented upon. There would be no point in doing this if I consciously tilted the sources to produce a partisan effect.
Although I am a lifelong Democrat, I believe in maintaining an open mind and doing one's best to understand the point of view of one's political opponents.
---
Notes regarding the PCO Liberty Alliance
The "Recent/General Newspaper Articles/Posts" section includes links related to a conflict within the local Republican Party, now apparently dormant, which I described earlier as conventional conservatives against Ron Paul supporters. I was mistaken.
It now appears that the conflict arose out of the dissatisfaction with the GOP county convention among delegates for presidential candidates other than Romney, leading to the organization of the PCO Liberty Alliance. The point of PCOLA is (or was?) to elect Republican precinct committee officers favorable to a more conservative point of view than its organizers attribute to the county Republican "establishment."
Two persons have been the public face of PCOLA, Daniel Poletti, a blogger with ties to the Ron Paul campaign, and Christian Spartacus Berrigan, who describes himself as a Santorum delegate to the convention.
Mr. Berrigan appears to have been the organizer of a controversial demonstration against CRC tolls and in favor of David Madore, Republican candidate for county commissioner, in which Mr. Poletti was also involved. See Columbian, Friday, October 26, 2012: Toll-sign creator has change of heart; After speaking with WSDOT, he shares concern over safety , and Columbian, October 23, 2012 , 2012: Toll signs attract state's attention; It says effort supporting David Madore violates highway laws. According to the Columbian, "Madore's campaign manager, Anna Miller, said the Madore campaign did not contribute to the signs."
---
Dates and Deadlines
| | |
| --- | --- |
| June 23 | Overseas/military ballots for August Primary mailed |
| July 9 | Mail-in/online voter registration/address change deadline for August Primary |
| July 15 | Federal Election Commission July quarterly campaign finance report due |
| July 17 | State pre-primary C-4 financial report due |
| July 20 | August Primary ballots mailed, last day to file as write-in candidate for August Primary |
| July 30 | In-person registration deadline for August Primary for new Washington voters |
| July 31 | State seven-day pre-primary C-4 financial report due |
| Aug. 7 | Primary Election |
| Sept. 10 | State post-primary C-4 financial report due |
| Sept. 22 | Overseas/military ballots for November General Election mailed |
| Oct. 15 | Federal Election Commission October quarterly campaign finance report due |
| Oct. 15 | November General Election ballots mailed |
| Oct. 16 | 21-day pre-general state C-4 financial report due |
| Oct. 25 | Federal Election Commission pre-general election campaign finance report due |
| Oct. 29 | Last day for new in-person voter registration for the November General Election |
| Nov. 5 | State special reports due if candidate receives contributions of $1,000 or more in the aggregate from one source. |
| Nov. 6 | General Election |
---
---
---
Media/Political Links
| | |
| --- | --- |
| • | Columbian newspaper |
| • | The Daily News (Longview) |
| • | The Chronicle (Centralia) |
| • | The Reflector (Battle Ground) |
| • | Camas-Washougal Post Record |
| • | OregonLive.com (Oregonian newspaper) |
| • | KATU-TV (Portland) |
| • | Clark County Conservative Blog |
| • | Clark County Politics Blog |
| • | PCO Liberty Alliance website (The PCO Liberty Alliance describes itself as made up "primarily of Ron Paul, Newt Gingrich and Rick Santorum supporters." As of Nov. 29, the last post on this site was "Election Results Are In – Update Pending" on Aug. 26.) |
| • | calleduntoliberty: One activist's perspective on Clark County politics (This articulate blog is a fine guide to what's going on in the local Republican Party, when the blogger, Daniel Poletti, chooses to write. Mr. Poletti was a Paul delegate to the county GOP convention and took part in David Madore's successful campaign to become a county commissioner.) |
| • | Americans for a Constitutional Government and Ron Paul 2012 (This site, as of November 29, had not been active for some time.) |
| • | Ron Paul Grassroots Wiki (Clark County) (This site, as of November 29, had not been active for some time.) |
| • | Willamette Week |
| • | couv.com (This site has become much more video-oriented recently. David Madore, successful Republican candidate for Clark County commissioner, is listed as "CEO/Chief Bottlewasher" on the site's "About Us" page.) |
| • | Daily Insider |
| • | Clark County Republican Party Page |
| • | Clark County Democratic Party Page (bluedonkeys.com) |
| • | Clark County Elections page |
| • | Federal Election Commission |
| • | State Public Disclosure Commission |
| • | Reporting Dates for State Candidates |
---
Third Congressional District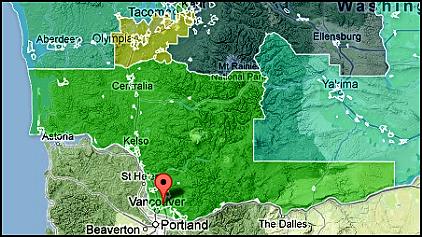 Candidates:
• Incumbent: Jaime Herrera Beutler (R)
• Jon T. Haugen (D)
• Norma Jean Stevens (Independent)

---
Incumbent: Jaime Herrera Beutler (R)
Campaign Address: PO Box 1614
Ridgefield, WA 98642
Phone: (360) 887-3546

---
---
From "Jobs and Our Economy" congressional page (Link) (accessed 4/29/12):
Reverse government overspending: The first step Congress can take to empower job creators is stop government's disastrous habit of overspending. Right now, the federal government is borrowing 41 cents for every dollar it spends and adding to a federal debt that is more than $15 trillion. That level of spending continues to result in more and bigger tax burdens on small business.
By reversing the trend of overspending, we're allowing businesses to leverage more of their capital, grow their operations, and hire people.
Reduce harmful and unnecessary regulations: Entrepreneurs and job creators rank overregulation as one of the biggest hurdles to building their business. Regulatory burdens cost businesses more than $1 trillion each year in this country.
For example: to date, the EPA has attempted to regulate and hamper biomass energy. Biomass has tremendous promise in our region, both as a source of jobs and as a means to produce clean, affordable energy. I want to see this source of energy thrive and bring jobs with it. I've been actively working with the EPA to recognize woody biomass as a clean, renewable source of energy.
Protecting Social Security page (Link) (accessed 4/29/12):
Millions of Americans who are retired or near retirement are counting on a promise made by the U.S. government that Social Security will be there for them. I will work to make sure Social Security is funded so that we can keep that promise. Privatizing Social Security is not an option and I do not support it.
The real threat to Social Security is overspending by politicians in Washington, DC. For years, they have taken money from the Social Security trust fund and left nothing but I.O.U.'s.
It is my job to help stop the overspending in other areas of government, so that we can put Social Security back on steady financial ground and keep our promises to those who depend on this program.

---
---
Candidate: Jon T. Haugen (D)
Campaign Address: 13502 NW 49th Ave.
Vancouver, WA 98685-1597
Phone: 360-907-8340
Email: Info@HaugenVet.com
---
---
From campaign page (accessed 4/29/12):
Jon T. Haugen is a Military Veteran, who served 24 years. He is a retired Navy Pilot who graduated in the top third of his class at the United States Naval Academy.
Jon has been married to his bride, a Registered Nurse at Legacy Salmon Creek, for 26 years. They have three children who all attended Clark College and graduated from Washington State Universities.
---
From campaign issues page (accessed 5/3/12):
National Defense: Ms. Herrera Beutler readily admits she has no foreign policy experience.
Solution: Vote for a candidate with foreign policy experience. During his 24 year military career Jon Haugen lived overseas, worked with the North Atlantic Treaty Organization (NATO) and Japanese Self-Defense Forces. The most important vote a Congressman will ever make is the decision to declare war. Jon Haugen has the background and experience to make this decision.
Afghanistan: Osama bin Laden is dead and al-Qaeda (The Base) has been decimated. It is time to bring the troops home.
Medicare: We need a Representative in Congress who will protect Medicare. Ms. Herrera Beutler voted to end Medicare.
Solution: Save Medicare by: 1. Index Medicare coverage to the same Social Security age requirements currently in place. 2. Use a "Means Test" for Medicare. The wealthy (retirement incomes above $250,000) would lose Medicare coverage. The wealthy can afford private insurance coverage.
Social Security: Republicans have called Social Security a "Ponzi Scheme".
Solution: Jon Haugen would strengthen and protect Social Security by eliminating the current cap for incomes above $106,000.
Jobs and the Columbia River Crossing: Over $150 million has been wasted on planning for a $3.6 billion bridge. Ms. Herrera Beutler is not a leader; she is a professional politician, who won't take a stand on light rail. Herrera Beutler supports tolling. Herrera Beutler did vote for "The Bridge to Nowhere" wasting $183 million.
Tolling on both I-5 and I-205 would be required. Tolling would have no end date. (RCW 47.56.830) Tolls could be as high as $12 per car. 65,000 vehicles per day could be diverted to I-205 due to tolling.
Solution: Jon Haugen would stop the wasteful spending and bring good paying jobs to the area by building an I-5 bridge we can afford. Jon Haugen is the leader we need, by saying: 'keep the current bridges, and build a new six lane bridge with no light rail and no tolls.' This is a $640 million dollar solution that saves over $3 billion dollars....
Debt and Deficit: Debt: $16 Trillion Dollars and climbing. We borrow 40 cents of each dollar we spend. Deficit: $1 trillion dollar annual debt from the Republican controlled House.
Solution: Allow Bush era tax cuts to expire for those making more than $250,000. Increase to 39% tax on Capital Gains for those with a taxable income over $250,000. The "Wall Street Romneys" of the world would pay 39%. Use this extra tax revenue to pay down the debt and deficit.
We must reduce spending: one idea is to bring home the 70,000 U.S. troops we have in Europe, saving billions.
Federal Tax Credit: Washington State Sales Tax credit was allowed to expire by Congresswoman Herrera Beutler on 31 December 2011.
Solution: A bipartisan effort to restore this critical Federal Tax Credit for citizens from states that have no State Income Tax including Washington State!
Education: Jon Haugen got into politics to support Education. He fought to change the Washington State Constitution to restore democracy to School Levy Votes, Simple Majority (50% plus one) not Supermajority (60% plus one).
Environment: When Jon Haugen hears Republicans talk about rolling back regulations he hears: "Polluted water, dead fish and Acid Rain." Jon would protect the environment.
Forest Funds: Removed from the Federal Budget.
Solution: Jon Haugen would work across the aisle to restore funding. Because Federal Land isn't subject to property taxes, rural counties and school districts since 1908 have received a share of timber revenue.? The Federal Government provided Forest Funds as part of the Economic Stabilization Act of 2008 (Public Law 110-343). This is a bi-partisan concern. Republicans and Democrats from Montana, Idaho, California, Oregon and Washington have supported this legislation in the past.
---
On September 14, 2006, Haugen was the sole sponsor of an initiative "relating to taxes." (Link) It is now listed as inactive.
Text:
Amendment to Art. 7 Section 2
LIMITATION ON LEVIES
Statement of Subject: Initiative would amend the State Constitution, specifically Article VII, Revenue and Taxation; Section 2 Limitations on Levies. Strike "three-fifths" and replace with "three-sixths" throughout Article VII, Section 2.
Concise Description: Initiative directs the State Legislature to amend the State Constitution and send to the people for a vote on said amendment.
Shall this measure be enacted into law? Yes[ ] No [ ]
In 1944 the State Constitution was amended to require a "three-fifths" (60%) or Super Majority for a "taxing district" to levy additional tax. This change to the State Constitution codified law that was proposed when 40% of the electorate (land owners) paid 100% of the budget. This initiative would direct the Legislature to vote on a change to the State Constitution and if successful send to the people a vote to change the Super Majority to a Simple Majority by striking "three-fifths" and replacing each instance with "three-sixths."

---
---
Contents
---
Candidates/Districts
---
49th Legislative District
---
---
49th Legislative District: House Position 1
Candidates:
• Incumbent: Sharon Wylie (D)
• Debbie Peterson (R)
---
Incumbent: Sharon Wylie (D)
Campaign Address: 1111 Main Street Suite #400
Vancouver, WA 98660
Phone: (360) 901-8551
Email: campaign@sharonfor49th.com

---
---
From party legislative page biography (accessed 4/29/12):
Sharon Wylie has more than 20 years of management, public relations and leadership experience in business, non-profits and government. Most recently, Sharon worked as a management consultant with business, non-profit and government clients. Prior to this she worked as Government Relations Officer for Clark County where she developed yearly legislative agendas, strategy and initiatives. Some of her successes while working for Clark County include:
| | |
| --- | --- |
| • | Obtained funding for the Clark County Center for Community Health |
| • | Landed a new state crime lab for Vancouver |
| • | Helped save the county's shortline railroad |
| • | Secured $40 million in state funding to complete the Salmon Creek-Interstate 5 interchange |
Before working for Clark County, Sharon worked as a consultant for her own company, Wylie and Associates. From 1993-1998 Sharon served as an Oregon Legislator in State House District 22 in Gresham.
Sharon is a current board member and past president of Council for the Homeless of Clark County and current board member for the Affordable Community Environments, a low–income housing development non-profit
Sharon earned a BA in Political Science from UC Riverside. Her hobbies include backpacking, mountain climbing, and oil painting. Sharon resides in Vancouver with her husband and has adult twin daughters.

---
---
Debbie Peterson (R)
P.O. Box 872204
Vancouver 98687
(360) 356-4437
---
---
From campaign website, accessed 7/11/12:
"I am asking for your vote so that I can be your voice in Olympia. For the past four years, I have worked for you, pushing to get a more reasonable bridge project, and last December, I was your voice at the Clark County Commissioners' meeting. I stood up for you and asked the County Commissioners to reject staff recommendations for a 1% Clark County property tax increase. The good news was that all three Commissioners unanimously rejected the tax increase.
"My promise to you: I will work as hard for you in Olympia as I have, here in Vancouver. It will be a privilege to represent and serve you."
---
Comment from Willamette Week (online): June 14, 2012:
"... From the far left to the far right, there is no consensus on this disastrous, ineffective, incompetently designed project. You guys have a job to do in Oregon! Elect Jefferson Smith as mayor! There will be big money to defeat him, so he will need a lot of help. But, he understands the ridiculous nature of this project. We'll do our job, and vote down the M/O tax. Good luck to both of us!"
---
Comment from Oregon Live: June 8, 2012:
"'We were all going down the path of making a reasonable decision,' said Kris Strickler, CRC deputy director. 'But the world changed.'
"Kris' excuse is the world changed? Kris earns a salary of $????? It is his job to assume, over a four year period that the world is going to change. It is his job to find out the navigational needs of river clients. Besides, in 2006, according to the article, the Coast Guard had a hearing on this very issue. During that six years, the CRC has had two failed designs: Sept. 2010 – the Independent Review Panel deemed the Box-Web design unsafe. When that happened, Don Wagner came to Vancouver City Council in late January, 2011, and said that the council had to make a decision because he had to get back to Gregoire in 10 days with a design. This project is imploding due to incompetence – which BTW, I have been saying for the past two + years to the Regional Transportation Board (RTC) and Vancouver City Council."
---
---
49th Legislative District: House Position 2
Candidates:
• Incumbent: Jim Moeller (D)
• Carolyn Crain (R)
---
Incumbent: Jim Moeller (D)
Campaign Address: 1701 Broadway St #328
Vancouver, WA 98663
Phone: (360) 903-5115
Email: electjim@jimmoeller.org
---
---
From "Jobs: Opportunity For All" party legislative page (Link) (accessed 5/6/12)
One Washington, with opportunity for all – we believe that everybody deserves a shot at the American Dream. That means building a better Washington – better school and universities, better highways and railroads, better quality of life – so our citizens can win the global race for the best jobs and so our businesses can continue to be world leaders in software, airplanes, agriculture and innovation.
Jobs Now
While the economy is bouncing back, people are still hurting. Construction workers are the hardest hit, with 30 percent unemployment on the west side and up to 60 percent unemployment east of the mountains. We can put folks in hard hats back to work, building a better Washington for our kids and grandkids.
To do that, we're proposing something similar to what President Franklin Delano Roosevelt and Washington state Governor Dan Evans did when they faced tough times. They put people to work not with tax cuts or programs that theoretically might someday create some jobs – they hired people to clear trails, create parks, fix schools and build dams. They built things that we still use today.
The House is working with the Senate, businesses and labor unions on a similar proposal: Jobs Now, Washington's Future. The complete proposal will be released next week and, if passed, people could be put to work as early as this spring.
Preparing students for jobs in the 21st century economy
Recognizing that there are multiple pathways to career success – HB 2170 requires that students receive information early in their educational experience about employment prospects and earnings, and about the different routes offered by educational and technical institutions to acquiring the knowledge and skills needed for specific jobs. It calls for the completion of a High School and Beyond Plan for each student to ensure that students have a clear and accurate understanding of what is needed to achieve their career goals.
High demand jobs for our citizens in the aerospace industry – HB 2156 directs community and technical colleges that work with training providers to align training and education programs with the workforce needs of the burgeoning aerospace and advanced materials management industries. It also calls on the Workforce Training and Education Coordinating Board to evaluate certain training programs every four years.
Expanding access to the aerospace training student loan program – HB 2292 adds Renton Technical College to the institutions that can access aerospace training loans. This loan program is highly successful and operates as a "revolving fund" as loan repayments are used to fund new loans.
Boosting employment and competitiveness
Spurring business innovation and job creation – HB 2482 improves the state's Innovation Partnership Zone program. An IPZ is a collaborative effort in which the state encourages and supports research institutions, workforce training organizations and globally competitive companies – all working cooperatively in close geographic proximity – to create commercially viable products and jobs. To focus the program on the best frameworks for creating sustainable products and job growth, the bill requires an IPZ to be part of an industry cluster, which is defined as a geographic concentration of: interconnected companies in a single industry; related businesses in other industries, including suppliers and customers; and associated institutions, including government and education.

---
---
Candidate: Carolyn Crain (R)
Campaign Address: 5917 NE 47th St.
Vancouver, WA 98661-2929
Phone: (503) 984-5659
Email: votecarolyn@comcast.net
---
---
From campaign page (accessed 6/19/12):
Initial Agenda Goals
| | |
| --- | --- |
| • | Create legislation that reforms and repeals in order to reign in the department of Ecology in Washington State. |
| • | Reduce discretionary spending programs in order to bring about fiscal constraint in governmental spending. |
| • | Work to reform L&I laws regarding workers compensation adding optional privatization coverage plans. |
| • | Reform public employees' benefits programs so that all personnel are covered with equal benefits. |
| • | Restructure spending in K-12 funding at the classroom level. |
| • | Create a Medicaid program that makes sure the children, disabled, and elderly are not just covered on paper but actually get treatment and services. |
---
---
49th Legislative District: Senate
Incumbent: Craig Pridemore (D) – running for state auditor
Candidates:
• Annette Cleveland (D) • Eileen Qutub (R)
---
Annette Cleveland (D)
Campaign Address: 1111 Main Street, Suite 400
Vancouver, WA 98660
Phone: (360) 975-1914
Email: info@annettecleveland.com
---
---
From Clark County Democrats Page (bluedonkeys.com) (accessed 4/27/12):
"I am a public affairs professional with 29 years of experience in advertising, communications, government affairs, and strategic planning. I began my career at the Vancouver Columbian newspaper in the Advertising Department.
"I went on to enter Congressional service as staff to two different United States Senators for over a decade, lobbied on the Federal and State levels for the American Cancer Society as Government Relations Director, oversaw communications for the Greater Vancouver Chamber of Commerce as the Public Affairs Coordinator, and managed strategic planning for the local public transit provider, C-Tran as Strategic Planning Administrator.
"I currently serve on the Association of Washington Business Board of Directors, Washington State Hospital Association's Public Policy Advisory Group, the Greater Vancouver Chamber of Commerce's Public Policy Advisory Committee, and Identity Clark County's Governmental Affairs Roundtable."
---
---
Candidate: Eileen Qutub (R)
Campaign Address: PO Box 65824
Vancouver, WA 98665
---
---
From Clark County Republican Party website (Link), dated June 2:
... Former Oregon State legislator Eileen Qutub announced her campaign today for the State Senate in the 49th District.
Eileen grew up in Clark County and graduated from Battle Ground High School. She received her bachelor's degree from George Fox University.
"This is my home! I was raised right here in Vancouver. As a former small business owner, I am deeply concerned with our state's financial stability, its relentless appetite for growth and disregard for the people's money. Olympia seems to have forgotten that wealth is created, not in the halls of government, but on the streets of our towns and cities."
Eileen went on to say, "We need a new kind of environment that is friendly to small business growth in order to create jobs, so that all of our families might prosper again. Here is what I will do on your behalf. I will work to:
| | |
| --- | --- |
| • | Eliminate burdensome obstacles that are keeping job growth stagnant, promote training to get people back to work while keeping our families taxes low. |
| • | Restore fiscal sanity and accountability in state government. |
| • | Fully fund education with reforms that steer more money to kids at the classroom level, and foster academic excellence." |
Previously, Eileen served in the Oregon State Senate and Oregon House of Representatives before moving back home to Vancouver. In Oregon, she earned a reputation as a hard-working, collaborative legislator focused on creating jobs, improving schools and protecting the most vulnerable among us.
Her six years in the Oregon legislature and current position on the Clark County Planning Commission have given her a wide breadth of experience and the reputation of being an independent thinker at a unique time in our history. Eileen believes, "It would be my greatest honor to now serve the families of the 49th district in the Washington State Senate."
Eileen and her husband of 35 years live in Vancouver and they have 4 adult children and 11 grandchildren.
---
From Oregon Election Division online voters' guide for the 2000 election (accessed 5/18/12):
Occupation: State Senator; homemaker
Occupational Background: Small business owner; real estate broker; real estate appraiser
Educational Background: BA, Management of Human Resources, George Fox College
Prior Governmental Experience: State Representative; State Senator; Asst. Republican Leader
Eileen Qutub Delivers: Qutub kept her promises to the residents of Senate District 4. When we called upon her, she was always there to fight and win for us. She worked to make government more responsive and she delivered quality service for us, the residents of Senate District 4.
Eileen Qutub is Our Advocate: Education continues to be a top priority for Qutub. Under her leadership, both higher education and K through 12 witnessed dramatic increases in their budgets. Qutub also pushed for accountability and innovation to enhance kids' learning.
School Safety and learning go hand-in-hand. Qutub was successful in passing laws to protect our children and provide a healthy environment in which to learn.
Accountability is key to all Oregonians. Qutub is a friend of taxpayers. She made sure that waste and inefficiencies were identified and eliminated. Qutub supported efforts that protected services to those most in need, including stabilizing the Oregon Health Plan, saving the Spousal Pay program, and funding Rape Crisis Centers.
Taxpayer Protection is one of Qutub's top priorities. While some legislators operate under the "spend-it-all" philosophy, Qutub understands the needs of our families. She returned over collected income tax dollars to taxpayers. She sought to make sure that every dollar spent was spent wisely.
Livability and the environment aren't buzzwords to Qutub. Whether protecting our air and water, saving salmon, providing access to beaches, maintaining our parks and a new state park in Washington County, Qutub appreciates what makes Oregon special and protected it.
Transportation issues concern us all. While supporting critical investments in infrastructure, Qutub initiated innovative new pilot projects aimed at decreasing congestion and improving roads.
Eileen Qutub Cares
She Has Earned Our Vote and Our Respect!
(This information furnished by Citizens for Eileen Qutub.)
---
From Willamette Week "Special Election Edition," May 12th, 2004 (Link):
Finally, let's zip out to Washington County. Eileen Qutub, the right-wing former legislator vying to unseat County Commissioner Dick Schouten, reportedly ripped into voters who called her with questions about her candidacy. Confronted on the alleged rudeness at a candidate forum, Qutub accused Schouten of "planting" the callers, which Schouten denies. According to Schouten's campaign staff, Qutub's husband, Abe, then fired off an angry email to the incumbent. A copy provided by the Schouten campaign bears the subject line "Lies, damn lies and lie purveyors," and is laced with ALL-CAPS FURY: "You know damn well she behaved VERY professionally as she ALWAYS does!"

---